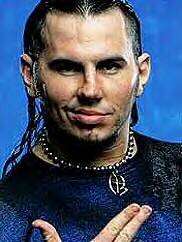 Height : 6'2"
Weight : 245 Lbs.
Hometown : Lewiston , New York
Finishing Move : Your Pain
Career Highlights :
2002 WWE King of the Ring
WWE Intercontinental Champion (6)
WWE Tag Team Champion w/Andrew Carter (3)
WWE Hardcore Champion (7)
WCW United States Champion (3)
ECW World Heavyweight Champion
At once, the menacing forcer of EHWF's Lost Souls, Mike Evil made his way up, from the CWF all the way to the WWE! Mike first began his "real" wrestling experiance at the age of 20 when he joined the now defunct EHWF, there he won the federation's World Championship 4 times, defeating everyone who came into his path. Then, fighting people was easy, now its just the opposite. He entered the WCW after the closing of the EHWF when he was 25. His debut match, "a walk in the park" as he said, after he defeated Hugh Morris for the WCW United States Championship, which he would win another time. After being denied many attempts to win the WCW World Heavyweight Championship, Mike made a suprise appearance on WWE Raw, with the WCW United States Title. Mike was immediatly released, and signed a contract to the WWE.
In the WWE, it was just a few weeks till Mike won his first championship, The Hardcore Championship when he was alligned with D-Block. There, he met his Tag Team Partner, Andrew Carter, to win the WWE Tag Titles 3 times. Mike wouldn't be suprised when WCW tried to invade, and even when ECW joined with WCW. Mike turned his back on the fans and joined ECW, to lead the destruction of the WWE. Mike would win the ECW World Heavyweight Championship, a title that he has never gone near. After himself and Andrew Carter parted ways in ECW, Mike jumped back to the WWE, it wasn't that long until Mike won his 6th Intercontinental Championship, accepting a challenge from his former Tag Team Partner, then WCW United States Champion, to a Title versus Title Match, to crown the first National Champion. Mike prevailed and upset Andrew to become that first National Champion.
Now, title-less in the WWE, Mike has had his contract "spread out" so he can be in different federations. He is currently in the EWF, CWF, OWF and soon to be GWF. After a sit down interview with Mike, he was asked his thoughts on his current status on his career, he replied, "Its a Dream Come True, it really is."